Afhalen bij een PostNL-afhaalpunt (PakjeGemak)
Haal je je bestelling liever af dan dat je hem laat bezorgen? Dan bezorgt LoveDevils je pakketje bij één van de meer dan 2400 PostNL afhaalpunten. Met zoveel locaties is er altijd wel een PostNL-punt in de buurt.
Voordelen van "PostNL afhalen"
Afhalen van het pakketje wanneer jou het uitkomt
Je kunt kiezen uit meer dan 2400 locaties in Nederland en meer dan 800 locaties in België
Veel afhaalpunten zijn ook 's avonds geopend
Je pakketje wordt niet aangeboden aan huisgenoten
Je hoeft niet meer te wachten op de postbode


Hoe werkt het?
Kies voor de optie "afhalen bij een PostNL-afhaalpunt" onder "Afleveradres"
Je voert in de zoekbox je postcode in.
Op het kaartje verschijnen nu de locaties waar je je pakketje naartoe kunt laten verzenden
Je krijgt van ons bericht wanneer de bestelling wordt verzonden. De volgende dag na 15:00 ligt je bestelling op de gekozen locatie klaar en kun je deze afhalen
Er wordt niets verzonden naar je factuuradres (ook geen factuur)
Let op! Neem een legitimatiebewijs mee naar de afhaallocatie
Let op! De bewaartermijn van een pakket op een PostNL-afhaalpunt is maximaal 7 dagen.
Ook wanneer PostNL het door jou bestelde pakketje na één keer niet heeft kunnen bezorgen, kun je je pakketje afhalen op het dichtstbijzijnde PostNL-kantoor. Je ontvangt van de postbode een afhaalbrief met daarop de informatie waar en wanneer je het pakketje kunt afhalen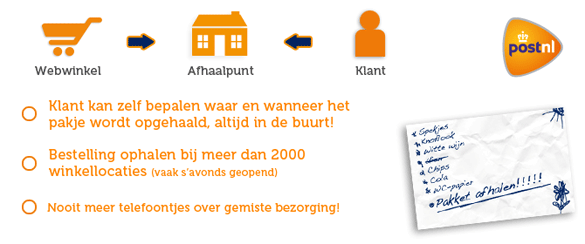 Afhalen bij Albert Heijn, Jumbo of Primera
Veel van de PostNL-afhaalpunten zijn gevestigd in supermarkten of winkels, zoals bijv. Albert Heijn, Primera, Gamma, Karwei, Bruna of Jumbo. Zo kun je je pakketje afhalen terwijl je boodschappen doet.